The Nestorians
From time to time, leaders in the early Christian Church gathered in what they called "ecumenical councils": meetings at which bishops from all of Christendom could consider, discuss and (it was hoped) come to universal agreement on disputed or unclear points of scripture and church doctrine. The first of these councils was held in the city of Nicaea (ny-SEE-ah) near Constantinople in 325 CE. Soon afterward, academies modeled after that in Alexandria were founded in Antioch and Nisibis.
Greek served as the lingua franca for scholars at all the Alexandrian-style schools, but Syriac was the native language of students at Nisibis and many texts were translated there from Greek into Syriac. When the school moved to Edessa in 363, the Syriac tradition moved with it.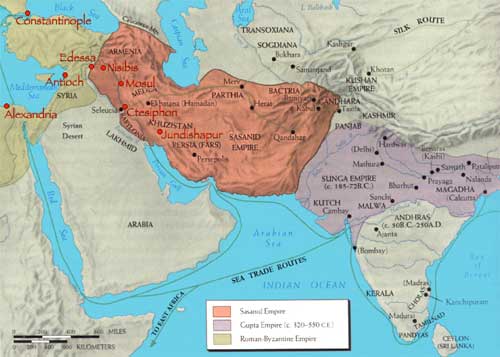 At the third council, held in Ephesus in 431 CE, delegates condemned the bishop of Constantinople, Nestorius (381-451), as a heretic for questioning Mary's status as Mother of God. Nestorius and his followers were exiled and settled in Edessa. Religous conflicts in Edessa prompted the Nestorians to move further east in 457.
Around 560, the Persian leader, Khosru I, established an Alexandrian academy in Jundishapur where instruction would be conducted in Syriac.

__________
The Bactrians
For centuries after the dissolution of Alexander's empire, Greek culture continued to influence the people of Bactria. Cities like Bactra and Merv were crossroads on the Silk Road (c. 100 BCE) that helped introduce new commodities and technologies from the East, such as paper and paper-making in the 750s.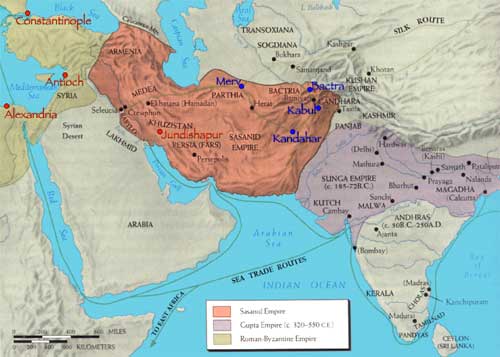 __________
India
Alexander's empire had extended to the Indus River valley. Despite the enormous distances separating Alexandria and India, communication and trade continued over the centuries via land and sea (Alexandria-Medina-Aden-Cambay; Alexandria-Antioch-Basra-Cambay).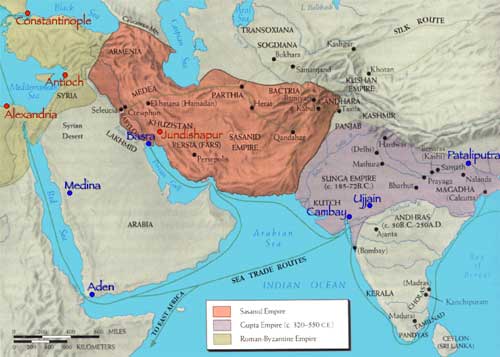 Astronomical records from Alexandria found their way to observatories like those in Pataliputra and Ujjain. Indian astronomers added their own observations to the old but replaced the old-fashioned sexagesimal system of notation (base 60) which dated back to Babylonian times with a decimal system which included a symbol for "nothing" to help keep track of place values. They called this symbol sunya, the Hindu word meaning "the void." When this was translated into Arabic, scholars used the word sifr, meaning "empty." Italians transliterated this word as zefirum, zefiro, and zefro, which eventually became zero.

__________