HISTORY 135F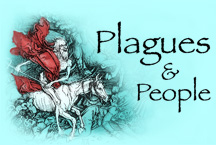 Infectious and Epidemic Disease in History
Department of History
University of California, Irvine
Instructor: Dr. Barbara J. Becker

Lecture 1. Costs of Civilization.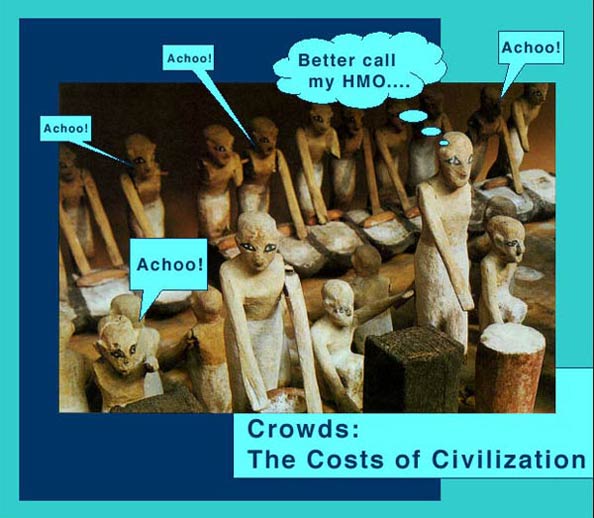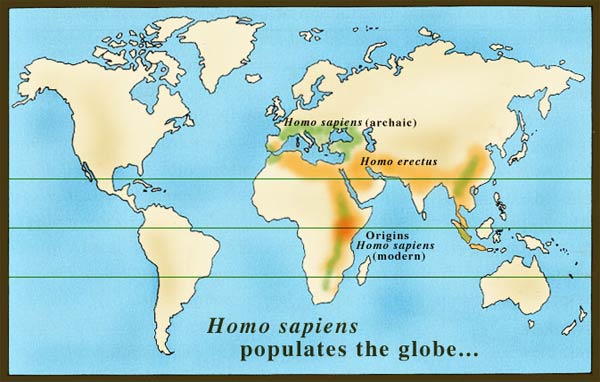 Earliest Homo sapiens modern (120,000 BP [Before the Present]) based on fossil evidence.
________________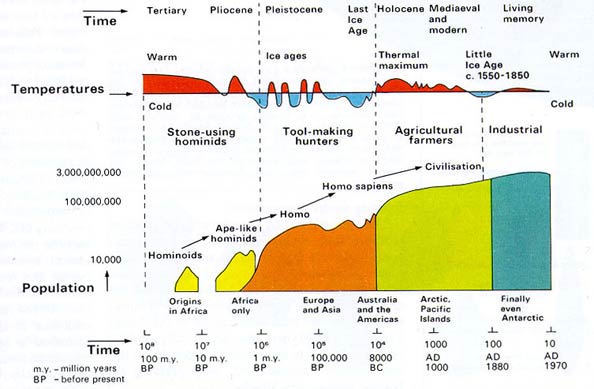 Geographical distribution and technical capabilities of genus Homo from 100 million years ago to the present.
________________
Human migration around the globe through 1000 BP.
________________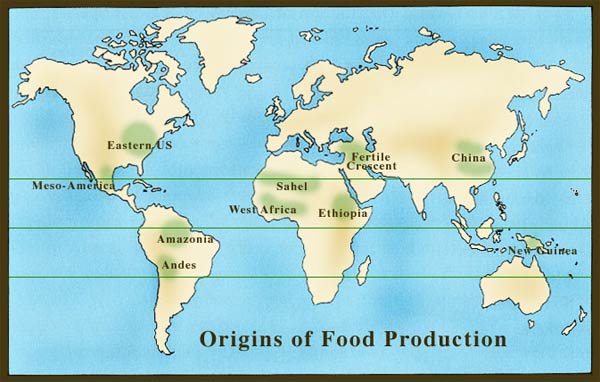 Evidence of agriculture found in the Fertile Crescent (10,500 BP), in China (9,500 BP) and in the Americas (5,500 BP).
________________
Most of wild land biomass is:
difficult to gather
dangerous to hunt
indigestible
poisonous
low in nutritional value
tedious to convert to edibility
Bringing land under cultivation enables it to support 10 to 100 times more people.

Domesticating animals introduces readily available source of protein, food product variety, non-food products, natural fertilizer, and work power.
Plant Domestication
artificial selection overrides natural selection
Opportunism--first hominids
human gatherers collect available wild fruit/seeds that:

have been missed or rejected by other foraging animals
inherently lack natural dispersal mechanisms (e.g., seed-pod bursting)
resist detachment by wind action and other common disturbances
these plants may not be fittest of species, but their survival is assured by human intervention
Preference--first hominids
human gatherers choose edible wild plants with desirable characteristics:

largest, tastiest, juiciest, most colorful, nicest smelling....
most accessible
easiest to prepare/eat
choices may be conscious or unconscious
undigested seeds of these plants are naturally (though unintentionally) resown in human waste
Husbandry--before 10,000 years BP
human gatherers store excess wild and tamed plant material for later use conditioned by:

availability of suitable containers
successful means of pest control
perishability of stored items
heartiest seeds survive lengthy storage to be used later for food and/or seed
Cultivation--after 10,000 years BP
human gatherers no longer rely on chance encounters with edible plants

purposely sow harvest resow seeds to produce food
plants easiest to germinate, most productive, truest breeders prove most amenable to domestication

cereals: emmer wheat, einkorn wheat, barley
pulses: lentils, pea, chickpea, bitter vetch
fibers: flax (cultivated for use in textile production)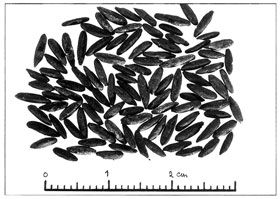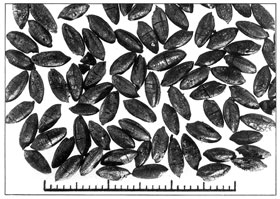 Wild (left) and domesticated (right) wheat grains.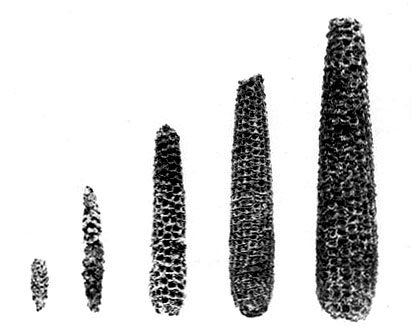 Changes in maize cobs resulting from 6,000 years of domestication.
Animal Domestication
Characteristics of wild animals suitable for domestication:
herd-able
naturally accustomed to living within hierarchical social system
non-territorial
non-aggressive; not easily panicked
herbivorous (carnivores, even those that don't eat people, are expensive to feed)
rapid maturation rate
ability to breed in captivity
source of both food and non-food products
________________

Early Domesticated Animals (years BP)
| | |
| --- | --- |
| dog | 12,000 |
| sheep/goats | 10,000 |
| swine | 10,000 |
| cattle | 8,000 |
| horse/donkey | 6,000 |
| water buffalo | 6,000 |
| llama/alpaca | 5,500 |
| camels | 4,500 |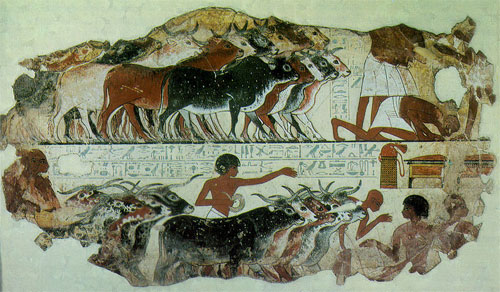 Domesticated cattle in Egypt, 3500 BP.
Crowd Diseases
Domestication of animals brought humans in close contact with crowd diseases of herding animals:
measles (rinderpest in cattle; canine distemper)
tuberculosis (Tuberculosis in cattle)
smallpox (cowpox)
influenza (flu in swine and fowl)
whooping cough (pertussis in swine and dogs)
Settlement resulted in increased population numbers and density:
increased food supply
improved nutrition
shortened birth interval

hunter-gatherers: 4 yrs
settled: 2 yrs
Settlement increased exposure to microbes via:
close social contact
proximity to human and animal waste
proximity to pests
standing water
Nature selects life forms most effective at producing offspring that survive to reproduce.
How did microbes evolve such that by thriving, they destroy their own and their progeny's principal food source?
Go to:
The History of the Peloponnesian War by Thucydides (460-400 BCE)
The Lives of the Noble Grecians and Romans by Plutarch (460-400 BCE)
On Airs, Waters, and Places by Hippocrates (460-377 BCE)
History of the Wars by Procopius (c. 500-560 CE)