HISTORY 60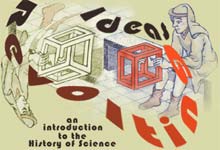 Department of History
University of California, Irvine
Instructor: Dr. Barbara J. Becker

Week 8. Living Machines
excerpts from
The Sandman (1816)
by E.T.A. Hoffman (1776-1822)

Olimpia
In the room I saw a female, tall, very slender, but of perfect proportions, and splendidly dressed, sitting at a little table, on which she had placed both her arms, her hands being folded together. She sat opposite the door, so that I could easily see her angelically beautiful face. She did not appear to notice me, and there was moreover a strangely fixed look about her eyes. I might almost say they appeared as if they had no power of vision; I thought she was sleeping with her eyes open. I felt quite uncomfortable, and so I slipped away quietly into [Professor Spalanzani's] lecture room, which was close at hand.
Afterwards I learned that the figure which I had seen was Spalanzani's daughter, Olimpia, whom he keeps locked up in a most wicket and unaccountable way. No man is ever allowed to come near her. Perhaps, however, there is something peculiar about her after all; perhaps she's an idiot or something of that sort....
Olimpia was richly and tastefully dressed. One could not but admire her figure and the regular beauty of her features. Yet the striking inward curve of her back, as well as the wasplike smallness of her waist, appeared to be the result of too-tight lacing, and there was something stiff and measured in her gait and bearing that made an unfavourable impression upon many....
Olimpia played on the piano with great skill; and sang as skillfully an aria di bravura, in a voice which was, if anything, almost too brilliant, but clear as glass bells....
The concert came to an end, and the ball began. Oh! to dance with her--with her--that was now the aim of all Nathanael's wishes, of all his desires....
[Nathanael] found himself standing close beside her, nobody having as yet asked her to be his partner. So, with some difficulty stammering out a few words, he grasped her hand. It was cold as ice.... He had always thought that he kept good and accurate time in dancing, but from the perfectly rhythmical evenness with which Olimpia danced, and which frequently put him quite out, he perceived how very faulty his own time really was....
He sat beside Olimpia, her hand in his own, and declared his love enthusiastically and passionately in words which neither of them understood.... And yet perhaps she did, for she sat with her eyes fixed unchangeably upon his, sighing repeatedly, "Ah! Ah! Ah!" Upon this Nathanael would answer, "Oh you glorious heavenly lady! You ray from the promised paradise of love! Oh! what a profound soul you have! my whole being is mirrored in it!" and a good deal more in the same strain. But Olimpia only continued to sigh "Ah! Ah!" again and again....
[Nathanael's friend Siegmund remarked:] "She is strangely measured in her movements, they all seem as if they were dependent upon some wound-up clockwork. Her playing and singing have the disagreeably perfect, but insensitive timing of a singing machine, and her dancing is the same. We felt quite afraid of this Olimpia, and did not like to have anything to do with her; she seemed to us to be only acting like a living creature, and as if there was some secret at the bottom of it all."....