HISTORY 60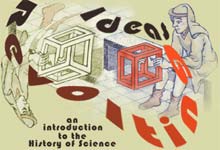 Department of History
University of California, Irvine
Instructor: Dr. Barbara J. Becker

Week 10. New Worldview
excerpt from
Nature Presupposes a Spiritual Disposition
by Bruno Thüring (1905-1989)
from Deutsche Mathematik, Theodor Vahlen, ed. (Leipzig, 1936), pp. 706-11
cited in Nazi Culture: Intellectual, Cultural and Social Life in the Third Reich,
George L. Mosse, ed. (New York, 1966), pp. 208-13

Einstein's work can be understood only as counterpart and antithesis to the intellectual tendency of a Kepler or a Newton. Whereas, still intoxicated with the tremendous successes of Kepler and Newton, their successors and spiritual heirs already became partly conscious, but increasingly less so, of the fact that the creative power of these two great men did not rest so much on their logical intellect as on their world-embracing outlook on life, with its simultaneous and equal concern for the realm of the material and the realm of the spiritual and non-material--that is, on qualities of soul and disposition. Others of their followers turned deliberately toward what was essentially a purely materialistic conception of spiritual and material nature, in the hope of being able eventually to grasp the whole of nature in one mathematical formula.

However, Kepler and Newton made their own anti-materialistic mode of thinking perfectly clear. The instinctive knowledge that nature and creation were not to be divorced from their creator and that the world of our paltry five senses, the world of matter, simply could not be the whole world, was so valuable and essential to their investigations that they expressed this knowledge not only in numerous private letters but also in their justly famous treatises. Their scientific aspirations, their drive to understand, their inquiry into nature were in the first instance born of a deep religious feeling--the word being used here in its true meaning--and whenever they raised the question of the meaning and purpose of a scientific inquiry, they never furnished any answer except their desire to comprehend and explain the existence and operation of God in the investigation of His plan of the world and His works.

The ancient magnanimity of soul of the Germanic man, directed away from the world and all external appearance, posed the first world-encompassing question about nature and thus became the mother of natural science. If the generation from which Kepler and Newton sprang had been exclusively devoted to materialism--if indeed it had been incapable of an inner view extending far beyond mere sensory perceptions--Kepler's search for the divine harmony of nature would have been impossible and therefore unsuccessful. At the same time, his success did not come to him easily. Not only for years but for decades he exerted all his genius for mathematics and creative combinations, which he knew how to subordinate to the primacy of exact observation. No failure, no disappointment could ever shake his rocklike conviction that the world had to be in harmony, for its progenitors were perfection and beauty....

The drive to comprehend what can be perceived by the senses, born of a conviction and faith in what cannot be grasped by our senses, and a modest yet persevering devotion to the exact observation of nature, determined the scientific attitude which made Kepler the prototype and example of the German natural scientist. Therefore, his scientific achievements were, and remain, despite their international reputation, the products of a thoroughly German and nationally conditioned conception of nature. The fairy tale of an international and absolute natural science that is independent of Volk, history, and race is smashed to pieces on Kepler. Conversely, a liberal theory of science could have come into being only in a period which, under the influence of persons of alien blood, increasingly fell victim to materialism and which was no longer able to see Kepler and Newton as anything more than great intellectualists and mathematicians.

But how can such a conception do justice to a man like Newton, who found it necessary in his main work, Principia Mathematica, to delve extensively into the problem of divinity and who, on the basis of his world-encompassing view of nature, could demand that divinity be evaluated as a problem of natural science?... [Newton wrote,] "We see only the structure and color of a body; we hear its sounds, we feel its exterior surface, we smell and taste it. But as regards the inner substances of matter, we can comprehend them neither through our senses nor through our intelligence. Even less do we have a conception of the substance of God."...

Is not such thinking and such knowledge of the threads that bind the realm of matter to the realm of the spirit, is not this awareness of the fact that with our limited number of senses we are able to grasp only a restricted part of the whole world, worlds apart from materialism, worlds apart from that relativistic conception according to which every description of nature may deal only with relations of matter to matter and according to which even space and time are only attributes of matter because there is, allegedly, nothing but matter? The formulation of general relativity as a principle of nature, as is done in Einstein's theory, can be nothing more than the expression of a thoroughly materialistic attitude of mind and soul.

The feeling for nature and the racially determined concept of nature possessed by Nordic man, who strives to comprehend nature not only with his intellect but also with his heart and soul and with his imagination, are here opposed by a concept of nature which aims to set up the intellect alone as the cognitive principle in the investigation of nature and which consequently disregards the possibility of conceptions geared to our spirit in favor of a purely symbolical, mathematical, formalistic, and non-concrete representation of nature....

By starting out from facts alone, even though based on observation and experiment, we cannot arrive at a "decision: with respect to the "correctness" of either [the Nordic or the Einsteinian conception of nature]. Rather the complex of facts is identical in both cases. The difference between the two concepts goes deeper; it lies on another level, namely, where natural science as an activity takes its point of departure. For that reason, the assertion of books popularizing the theory of relativity that it is a conception of nature based on experience is utterly untrue. For the substratum and essence of natural science are not to be found in this or that measurement, in this or that experiment, or in the exact reading of an instrument. All these are merely its exterior forms of expression, its results, and as such something which is objective, a datum provided by nature.

But what is essential in connection with what concerns us today is to determine what lies at the base of inquiry, what it springs from, what use the investigator makes of it and what it can be utilized for. It is not the What which is the decisive factor, but the How, Whence, and Why. If that were not so, there would be no explanation for the fact that the natural sciences came into existence and blossomed among the valuable peoples and races of Europe, and among these overwhelmingly in the Germanic segments thereof. This fact cannot be ignored; it attests to the communality of an identical basic attitude of mind and spirit which coincides with the communality of racial and Volkish characteristics. Not only Kepler and Newton, but also Galileo, Guericke, Faraday, Gauss, Maxwell, Robert Mayer, and many others attest to this fact.

But a word about the space-time problem. The conceptions of space and time are thought frameworks given to us by nature, into which we order and arrange all physical and chemical phenomena, but also all manifestations of life, mind, and soul. They are forms of thinking of our innermost being, so to speak, our "weapons" for confronting the outside world. Newton, as a true Germanic natural scientist, was fully conscious of that and he regarded space and time not as purely logical concepts, but as concepts strongly anchored in intuition. It is altogether different with the Jew Einstein. The attempt to view space and time as attributes of matter exclusively and the desire to understand them solely as matter, so that on the basis of this mental attitude it had to be claimed that the motion of matter is meaningful only in relation to other matter, are fully in keeping with the thoroughly and onesidedly materialistically oriented spirit of the theory of relativity. For the relativist, this is a self-evident concept and in return he acquiesces in all the violence done to intuition. Intuition and feeling are sacrificed to the worship of matter and pure logic....

Still another closely connected difference between the relativistic-Jewish and the Nordic-Germanic conception and representation of nature lies in their attitude toward the concept of energy. Power, strength, energy, is something immediately clear and understandable to the Nordic man; not only does he possess it himself, but it has confronted him from the primordial beginnings of his history and from the beginning of his personal life in his work as a craftsman, in the effort of physical activity. He knows from experience that through energy one can set bodies in motion or bring moving bodies to a stop. For Kepler and Newton, as Germanic men, it was immediately obvious, whenever they encountered such changes in motion, to speak of the effects of energy. Kepler was the first to give voice to the idea that the sun was the source of an energy which determines the trajectory of the planets. Newton founded his general mechanics on an exact and measurable definition of energy.

It is no coincidence that the half-Jew Heinrich Hertz and the full-Jew Einstein attempted to create a structure of mechanics from which the concept of energy has wholly vanished. The Jewish philosopher Spinoza likewise was ignorant of the concept of energy. It seems to be entirely alien to the world-feeling of the Jew, and he is therefore at pains to exclude this alien phenomenon from his consideration of nature. Hertz clothed this aspiration in his demand that all anthropomorphisms, such as energy, be excluded from natural science. But in doing so he overlooked the fact that every construction of a scientific concept arises in principle from human experience, that is, from a cognitive process in which the specific nature of the cognizing subject is as essentially involved as the specific nature of the cognized object. Finally, even Hertz's attempt is anthropomorphic if in place of energy he postulates the coupling of mechanical systems, whose motions thereupon lose all freedom.

Einstein's theory of relativity, however, sets aside the concept of energy through the most radical upheaval of all space-time concepts. He postulates, in a purely mathematical, formalistic way, a curvature of space in the environment of all matter and necessarily connected with it. In this curved space the planets follow trajectories analogous to the so-called geodetic lines, that is, to the shortest possible lines between two points in curved planes. Thus, through the elimination of the concept of energy, dynamics become, with Hertz as well as with Einstein, a kind of kinematics.

We can see by this example what is involved here: Not new cognitions of natural events, not new findings of scientific research, but something relating to human inwardness, something concerning the soul, world-feeling, attitudes, and racial dispositions.

There have been repeated attempts in lectures and books to present the theory of relativity as the grand capstone of centuries of progressive scientific development, which began with Copernicus and Galileo and led, via Kepler and Newton, to Einstein. No! Copernicus, Galileo, Kepler, and Newton are not Einstein's predecessors and pathfinders, but his antipodes. Einstein is not the pupil of these men, but their determined opponent; his theory is not the keystone of a development, but a declaration of total war, waged with the purpose of destroying what lies at the basis of this development, namely, the world view of German man. Therefore, it could be so joyfully saluted and enthusiastically celebrated only by a generation that had grown up on purely materialistic modes of thought. This theory could have blossomed and flourished nowhere else but in the soil of Marxism, whose scientific expression it is, in a manner analogous to that of cubism in the plastic arts and the unmelodious and unharmonic atonality in the music of the last several years. Thus, in its consequences, the theory of relativity appears to be less a scientific than a political problem.