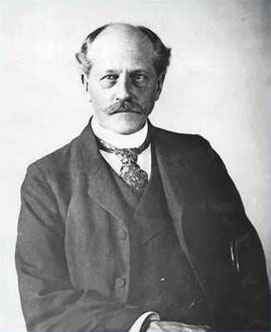 Percival Lowell (1855-1916)
Percival Lowell was born in 1855 to a distinguished Boston family. When he was just nine years old, his family traveled to Europe and young Percival attended school in France and became fluent in the French language. At age 21, he graduated from Harvard University with a degree in mathematics.
Lowell worked for six years managing the operation of his family's cotton mills and utility companies. Unhappy with the life of a businessman, he left the family business to experience the adventure of world travel. Lowell worked for several years as a diplomat, traveling throughout the Far East. He mastered the Japanese language and recorded his experiences in a number of books.
When he returned to the United States in 1893, Lowell decided to pursue his longtime interest in astronomy. He had become fascinated with the observations of Mars made by a prominent Italian astronomer, Giovanni Virginio Schiaparelli. Schiaparelli claimed to have seen dark lines crossing the surface of Mars, lines which he called canali, or canals.
In 1894, Percival Lowell located a place in the United States where the atmosphere was steadiest -- Flagstaff, Arizona. He built an observatory to view Mars, making sure it was ready in time to view the planet when it would once again be closest to Earth.
Lowell had no trouble seeing a network of canals on Mars, just like those Schiaparelli had described. He began mapping and naming these lines. This project occupied him until his death in 1916. Under Lowell's direction, the Lowell Observatory became known worldwide. It is still in operation today.
In his book Mars (1895), Lowell wrote enthusiastically about Schiaparelli's canali:
The first hint the world had of their existence was when Schiaparelli saw some of the lines in 1877.... The world, however, was anything but prepared for the revelation, and, when he announced what he had seen, promptly proceeded to disbelieve him.

Schiaparelli had the misfortune to be ahead of his times, and the yet greater misfortune to remain so; for not only did no one else see the lines at that [time], but no one else succeeded in doing so [later]. For many years fate allowed Schiaparelli to have them all to himself....

In 1879 the canali as he called them (channels, or canals, the word may be translated...), showed straighter and narrower than they had in 1877: this is not in consequence of any change in them, but from his own improved faculty of detection; for what the eye has once seen it can always see better a second time....

Toward the end of [1879, Schiaparelli] observed one evening what struck him as a most startling phenomenon, -- the twinning of one of the canals: two parallel canals suddenly showed where but a single one had showed before. The paralleling was so perfect that he suspected optical illusion. He could, however, discover none by changing his telescopes or eye-pieces. The phenomenon, apparently, was real.