Not all stars burn steadily. Some vary in their brightness and some even do this in a periodic way. The fourth brightest star in the constellation Cepheus (delta Cephei) is one such star. All stars that show the same characteristic periodicity as delta Cephei are called "cepheid" variables.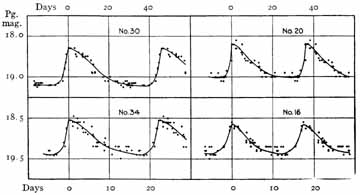 Cepheids exhibit a characteristic pattern of variation in their luminosity. This enables astronomers to distinguish cepheids from other kinds of variable stars.
The North Star, or Polaris, is a cepheid variable. At 300 light-years, it's one of the closest of the cepheids to the Earth. Unfortunately, very few cepheids are close enough to have their distances measured by any of the methods mentioned so far.
The star in the center of this series of images from the Hubble Space Telescope is a cepheid variable in M100, a spiral galaxy in the constellation Coma Berenices.
Henrietta Swan Leavitt (1868-1921) spent several years photographing the Large and Small Magellanic Clouds, massive aggregates of stars visible only in the Southern Hemisphere. She found 1,777 variable stars, a small fraction of which were cepheids.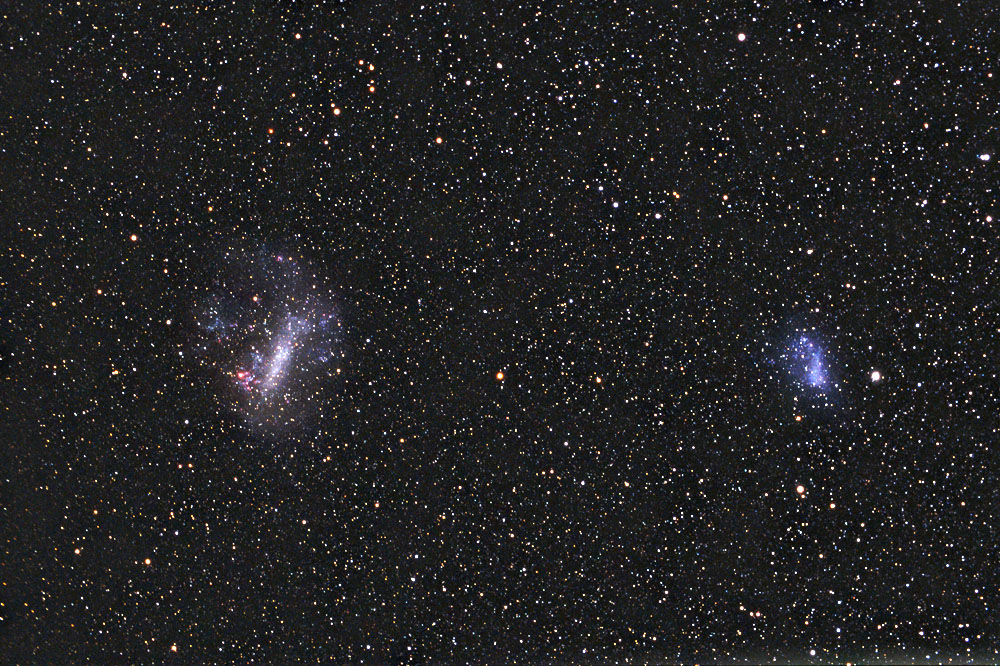 We now know that the Large (left) and Small (right) Magellanic Clouds are companion galaxies to our own Milky Way located at distances of 53,000 pc (LMC) and 60,000 pc (SMC).
Leavitt did not know the absolute distance to either of the two Magellanic clouds, but just as you would feel confident comparing and drawing conclusions about the relative heights of individuals in two distant groups of people, she was sure it was reasonable to compare characteristics of the cepheids she found in both the LMC and SMC.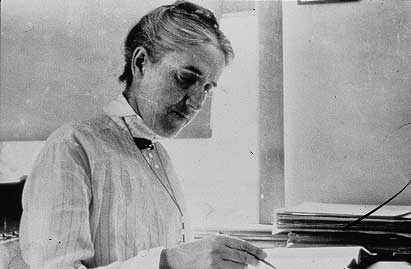 She plotted each cepheid on a graph according to the length of its period and its average apparent brightness. She concluded that cepheids with long periods are intrinsically brighter than those with short periods.
"In Figure 2 ... a straight line can readily be drawn ... showing that there is a simple relation between the brightness of the variables and their periods.... Since the variables are probably at nearly the same distance from the Earth, their periods are apparently associated with their actual emission of light, as determined by their mass, density, and surface brightness."
--Leavitt (1912)
["Magnitude" is the measure of a star's brightness. The brighter the star, the lower its magnitude number -- a magnitude 12 star is brighter than one of magnitude 14.]
Astronomers refer to cepheid variables as "standard candles" -- objects that can be used to infer the distance to other bodies. Cepheids are extremely useful in their role as celestial yardsticks.