...before the plague at Clermont great prodigies terrified that region.
For three or four great shining places frequently appeared about the sun and the rustics used to call them suns, saying: "Behold, three or four suns in the sky."...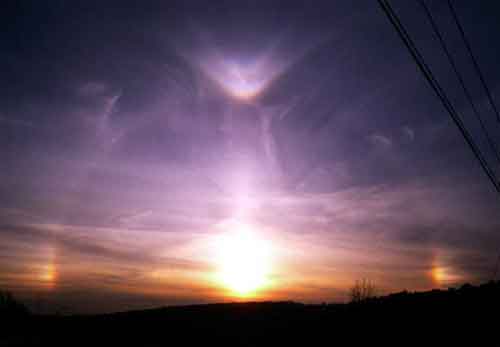 Sundogs, pillars, arcs and haloes resulting from the passage of sunlight through ice crystals suspended in the atmosphere.
...Once on the first of October (October 3, 563) the sun was so darkened that not a quarter of it continued bright, but it looked hideous and discolored, about like a sack...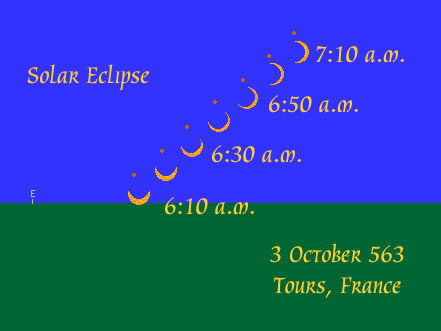 ...Moreover a star which certain men call a comet, with a ray like a sword, appeared over that country through a whole year, and the sky seemed to be on fire and many other signs were seen...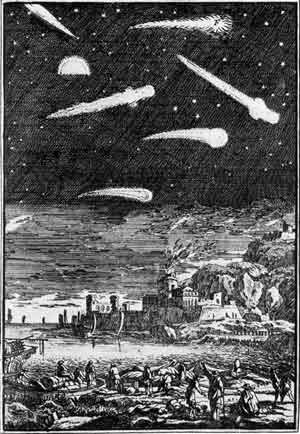 Different comet types -- including those shaped like swords -- illustrated in Description de l'univers, 1683. Two "Great" comets appeared during Gregory's lifetime -- one in 565 and another in 568. Although the comet of 568 was the brighter of the two, that of 565 hovered high in the sky all night during the 3 months it was visible.
...In the church at Clermont while the morning watches were being observed at a certain festival, a bird of the kind we call lark entered, flapping its wings above the lights, and so swiftly extinguished them all that one would think they had been taken by the hand of a single man and plunged into water. The bird passed under the veil into the sanctuary and attempted to put out the light there but it was prevented from doing so by the doorkeepers and killed. In the church of the blessed Andrew another bird did the same with the lighted lamps.
And presently the plague came, and such a carnage of the people took place through the whole district that the legions that fell could not be counted.
For when sepulchers and gravestones failed, ten or more would be buried in a single trench. Three hundred dead bodies were counted one Sunday in the church of the blessed Peter alone...
...Death was sudden. A wound the shape of a serpent would appear on groin or armpit and the man would be so overcome by the poison as to die on the second or third day. Moreover the power of the poison rendered the victim insensible.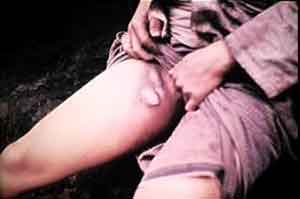 Photograph showing buboes on a modern plague victim.