Training in Medical Practice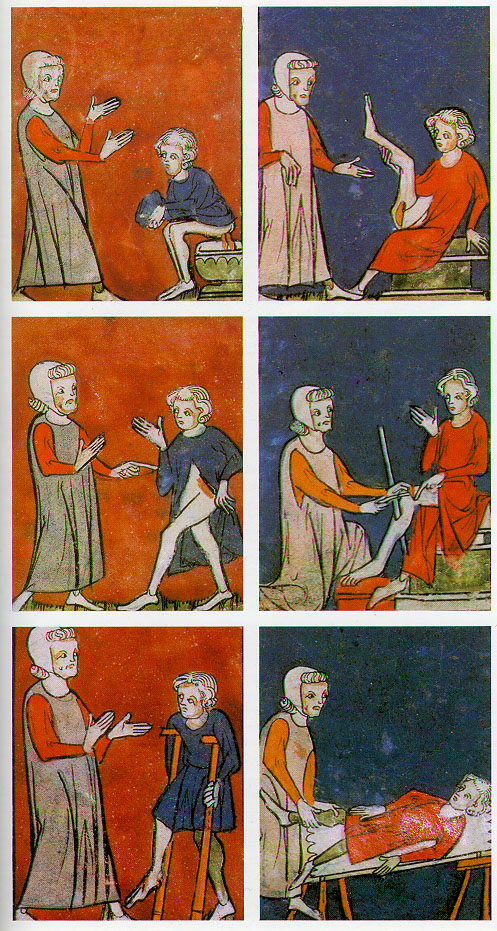 Illustrations from the Livre de Chirurgie (13th c.) show the physician treating patients who are suffering from a variety of complaints. Regardless of the horror presented by the injury (note the stake through the leg, center right) or the repulsiveness of the symptoms (diarrhea, top left), the neatly dressed physician is always calm and reassuring. The illustrations are unaccompanied by captions. They are intended to serve as a guide to the information elsewhere in the text and to be explained by someone knowledgeable.
The Medical School at Salerno
Salerno was a major center for translating ancient manuscripts from Arabic into Latin
first formal medical school; founded ~ 9-10th c
curriculum:

anatomy (including dissection of the pig)
practical medicine
professional behavior
Who practiced the healing arts?
Physicians
attend to internal or systemic illness
term "medicus" is sometimes used, but it is not quite synonymous with "physician" and is not as prestigious a title; equivalent to "healer" or "doctor"
Physicians consult the textbook.
Surgeons
treat external complaints (fractures, wounds, abscesses, skin ailments....)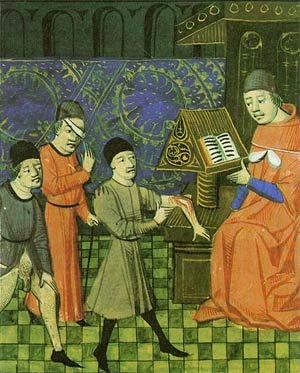 A surgeon sees patients in his clinic.
Apothecaries
prepare medicines for physicians
recommend remedies to the sick
dispense drugs directly to the sick
serve when no physician is available
visit sick to read urines

[supplemented income as grocer, chandler, or other occupation based on selling products used in apothecary business]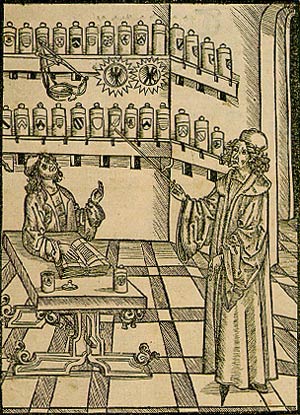 A physician selects a remedy at the apothecary's shop.
Barbers
provide routine preventive medical care -- bloodletting, purging...
shave and cut hair
pull teeth

[supplemented income with mule-trading, iron-selling, cloth dyeing, offering surgical treatments for which they were nominally unqualified]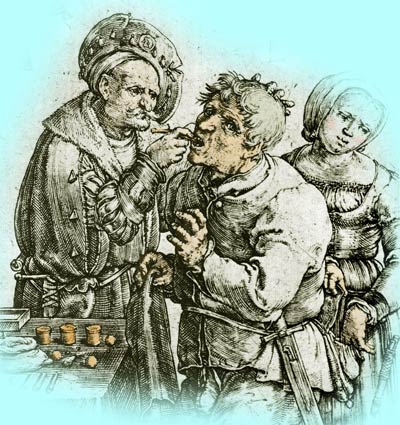 The barber pulls a tooth with the aid of his lovely assistant.
How were the healing arts practiced?
1. Consult one of a new genre of literature -- the health care guide:
Practicae

encyclopedic reference works relating to disease and treatment classified by organ and ordered from head to foot
Consilia

detailed descriptions of a single case with prescriptions for therapy
Regimen

short treatises with specific recommendations for food, drink, exercise and other health practices
Experimenta

proved remedies and recipes for medicines
Treatises devoted to a particular type of therapy or disease
2. Deduce a diagnosis
analyze humoral imbalance through examination of urine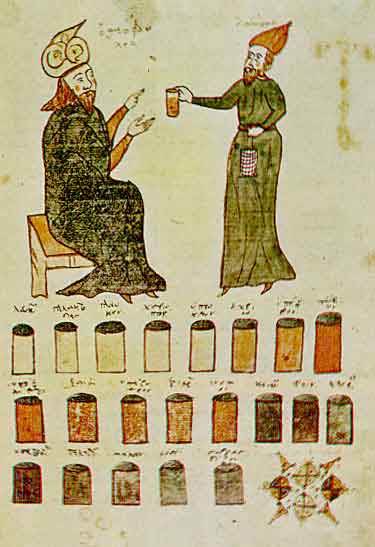 Guide for analyzing urine.
3. Provide patient with a prognosis
observe course of symptoms
follow doctrine of critical days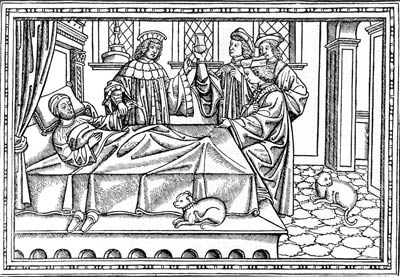 Physicians consider the diagnosis and contemplate a prognosis.
4. Prescribe therapeutic procedures
manipulate patient's:

diet
lifestyle
environment
prescribe remedies:

herbs
minerals
chemicals
alter patient's physiology through:

surgery
bloodletting
cupping
Where were the healing arts practiced?
Home
primary place where sick were treated
principal healers and caretakers were women of the household
some health providers made housecalls (midwives, some physicians and surgeons)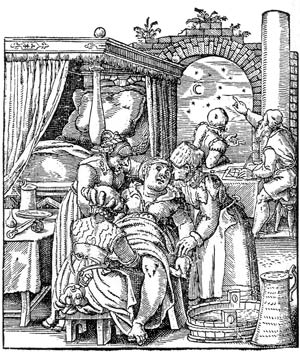 Midwives deliver a baby while astrologers cast its horoscope.
Apothecary shop
treatment of ambulatory patients
Urban hospitals
charitable institutions for treatment, not long-term care
Lazarettos and pest-houses
waystations for terminally ill
amenable to public regulation: quarantine
Valetudinaria
medical centers in monasteries
for routine care of resident monks and restorative care of passing wayfarers