Yambuku, Zaire (now Democratic Republic of the Congo [DRC])
August, 1976
(Belgian Catholic Mission Hospital in Yambuku
services 60,000 villagers in central Bumba Zone)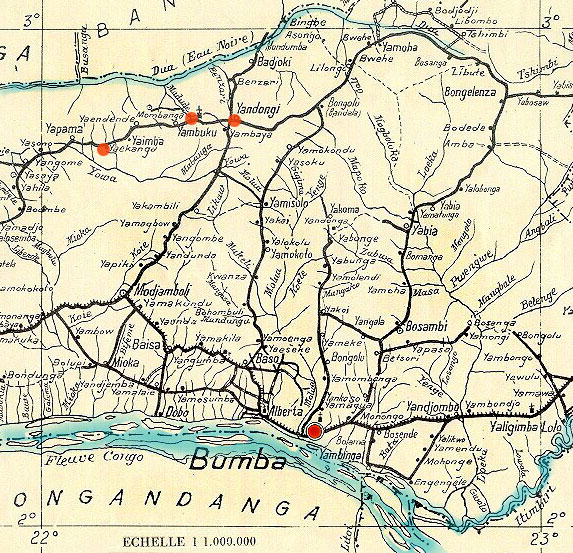 August 12-22
teacher named Mabalo Lokela toured an area near the border with the Central African Republic with small group from Yambuku mission
August 26--Mabalo falls ill
diagnosed with relapse of malaria
August 28--unknown man from Yandongi seeks help at Yambuku mission hospital
August 30--despite deteriorating health, man discharges himself from hospital
September 1--Mabalo's symptoms grow worse
medical staff at Yambuku hospital advise him to go home and rest
other patients at hospital show signs of illness, but symptoms (fever, fatique, diarrhea) are attributed to a variety of causes:

vitamin deficiency
post-operative recovery
malaria
these patients are also discharged and sent home
September 5--Mabalo returns to hospital in critical condition
symptoms:

profuse bleeding from all orifices
hospital staff at a loss
his wife, Mbunzu, continues to nurse him
September 8--Mabalo dies
Mbunzu, following tribal custom, washes her husband's body
Mabalo's mother, Mbunzu's mother and sister, and other women friends prepare Mabalo's body for burial
Family and friends of an early Ebola victim participate in traditional funeral preparations.
nearly all of these individuals later become sick
Mbunzu and her sister recover
Mabalo's mother and mother-in-law die
others in the surrounding area become sick
members of nursing staff at Yambuku hospital fall ill leading to widespread panic and disorder
blood is taken to test for antibodies to typhoid bacillus
September 15--Dr. Ngoi Mushola arrives from Bumba
September 17--he issues first official report of the events

"An Inquiry into the alarming Cases in the Collectivity
of Yandongi, 15-17 September 1976"
I received an urgent call from Yambuku on September 15 from the medical assistant Masangaya Alola Nzanzu of Yambuku Hospital because of alarming cases in the community since September 5, 1976; I went to determine the reality of the situation.
Findings. The affliction is characterized by a high temperature around 39°C; frequent vomiting of black, digested blood, but of red blood in a few cases; diarrheal emissions initially sprinkled with blood, with only red blood near death; epistaxis [nosebleeds] now and then; retrosternal and abdominal pain and a state of stupor; prostration with heaviness in the joints; rapid evolution toward death after a period of about three days, from a state of general health....
identifies Mabalo as index case
notes panic in the surrounding villages
seeks assistance from Kinshasa
September 23--two professors from National University of Zaire arrive in Yambuku
microbiologist and epidemiologist plan six-day investigative study

analyze blood samples for malaria, parasites and bacteria
perform autopsies, preserving samples for further testing
return to Kinshasa after only 24 hours
bring three ailing patients with them
Early October--team of medical experts arrives in Yambuku
place hospital under strict quarantine

village elders in Bumba Zone advise everyone to remain at home
all commercial and social activity in region comes to a halt
receive news of similar outbreak in Sudan, raising fear of pan-African epidemic
October 11--Pasteur Institute in Paris receives package containing blood samples and a note:
October 10, 1976

Sir, the enclosed tubes contain blood samples collected at a mission October 4 to 9 on patients and illness contacts at the hospital of the Catholic Mission of Yambuku, Bumba Zone....

This village of Yambuku and another close neighbor, Yandongi, are currently seized by a deadly epidemic of indeterminant nature. It began September 5. It is now in regression (10-9-76)....

The first assumptiosn were that the region was hit by yellow fever (but four of the dead Belgian missionaries were vaccinated) or typhoid fever.

The first analysis done at the Institute of Tropical Medicine (IMT) of Anvers eliminated yellow fever and typhoid; a virus not seen before was isolated at Anvers.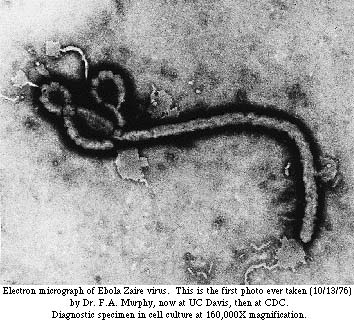 We have not yet received results of a liver biopsy sent to Dara. A diagnostic assumption of Lassa [fever] has been advanced, but not proven to date. The fresh blood samples have been preserved on dry ice.
Dr. G. Raffier
French Embassy, Kinshasa