HISTORY 135E

SPRING QUARTER, 2006
Department of History
University of California, Irvine
Instructor: Dr. Barbara J. Becker

Lecture 1. The Greeks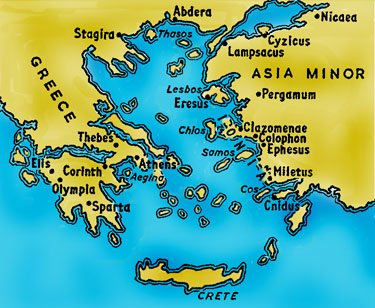 Greece and its Ionian Colonies
in the 7th and 6th centuries BCE

How can the structure and function of the natural world be explained without recourse to supernatural causes?
What constitutes an objective and unbiased method of interrogating all natural phenomena?

Begin by identifying nature's First Principles:
| | | |
| --- | --- | --- |
| To account for... | | which the Greeks called... |
| stability in the world... | find what is fundamental, constant and unchanging... | arché |
| diversity in the world... | find what is different, what changes, and how it changes; this will reveal the rules or agencies that control the change process... | physis |
| pattern in the world... | use these rules to organize the fundamentals into a "neat array"... | cosmos |

Ionian Philosophers
| | | |
| --- | --- | --- |
| individual | dates | arché |
| Thales of Miletus | 640-546 BCE | Water |
| Anaximander of Miletus | 611-547 | The Boundless |
| Pythagoras of Samos | 580-500 | Number |
| Anaximenes of Miletus | 556-480 | Pneuma (breath; air; spirit) |
| Heraclitus of Ephesus | 510-475 | Fire |

Parmenides of Elea (c. 480 BCE)
What is, IS -- and cannot NOT BE.
Something that IS cannot become what it IS NOT.
Conundrum: If there is only ONE first principle, how can we account for the diversity we observe in the world?
What can we know anything for certain?
How can we distinguish truth from matters of opinion?
Is the diversity in the observed world real? Or is it only an illusion?
When something appears to change into something else, where does that new thing come from?
Did it already exist? In what form?
"...it is right that you should learn all things, both the persuasive, unshaken heart of Objective Truth (The Way of Truth), and the subjective beliefs of mortals (The Way of Seeming), in which there is no true trust. But you shall learn these too: how, for the mortals passing through them, the things-that-seem must 'really exist,' being, for them, all there is."
--On Nature by Parmenides

Responses to Parmenides' Challenge
Anaxagoras (500-428 BCE)
There are as many elements as there are things that exist.
_________________

Empedocles (490-430 BCE)
Agents of love and strife (attraction and repulsion) act on 4 elements (earth, air, fire, water) to produce diversity observed in the world.
We can know about the world because we are made of these elements.

Atomists (460-370 BCE) e.g. Leucippus, Democritus
There is only one element--That Which Is (Atoms).
But That Which Is Not is also real (the Void).
Atoms and the Void interact (through random motion and collisions) thus producing all the diversity observed in the world.
We can know about the world through our senses when atoms impinge on us.

The Athenians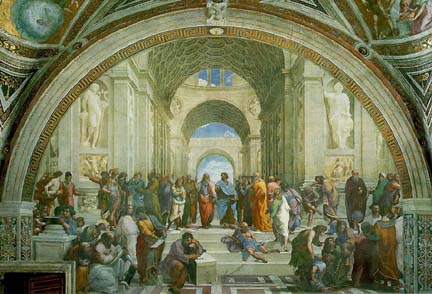 The School of Athens (1509-1511), by Raphael [Raffaello Sanzio (1483-1520)]
The central figures are Plato (left) and his student Aristotle (right). Socrates is the fourth figure standing to the left of Plato.

Socrates (470-399 BCE)
Marked end of ancient thinking and beginning of progressive classical Greek thought.
After Peloponnesian War (431-404 BCE), Athenians faced political crisis:
How is the state to be governed?
Is there such a thing as virtue?
Are laws of justice divine or man-made?
Can we teach laws?
Can we teach men to be just?
Cosmos and Polis are related: use methods for obtaining knowledge of the natural world to gain better understanding of and mastery over human affairs.

| | |
| --- | --- |
| | |
| | Plato as the young pupil of Socrates |
Plato (429-348 BCE)
Two worlds:
| | |
| --- | --- |
| Real world | Ideal world |
| | |
| knowledge obtained directly through the senses | knowledge revealed by jogging memories already in the soul |
| | |
Mathematics (geometry) bridges these two worlds and makes the Ideal world accessible to human understanding through reason.

| | |
| --- | --- |
| | |
| "No one may enter here [The Academy] who is ignorant of mathematics."--Plato | |
Quadrivium
(subjects comprising the necessary education for all citizens and civic leaders)
Arithmetic

Geometry

Music

Astronomy

number

number in space

number in time

number in motion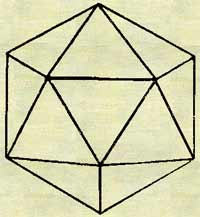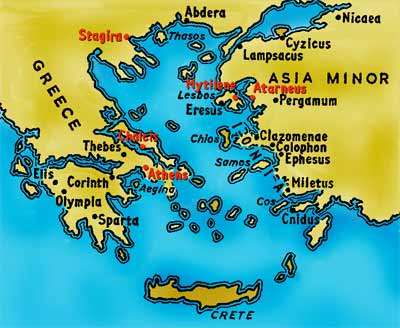 Events in the Life of Aristotle (384-322 BCE)

384 BCE
born in Stagira
c. 366
begins studies with Plato at the Academy in Athens
c. 347
after Plato's death, joins his former student, Hermeias, in Atarneus where they form a group patterned after the Academy
c. 343
moves to Mytilene on the island of Lesbos
c. 342
invited back to Stagira to serve as tutor to Alexander, the 13-year-old son of Philip of Macedon
c. 334
returns to Athens, where he establishes the Lyceum, his own philosophic circle
c. 323
after Alexander's death, flees Athens and settles in Chalcis on the island of Euboea
322 BCE
dies after a brief illness