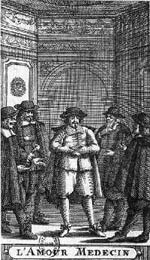 ACT II
Scene I
Lysetta. What will you do, sir, with four physicians? Is not one enough to kill any one body?
Sganarel. Hold your tongue. Four advices are better than one.
Lysetta. Why, can't your daughter die well enough without the assistance of these gentlemen?
Sganarel. Do the physicians kill people?
Lysetta. Undoubtedly; and I knew a man who proved by good reasons that we should never say, such a one is dead of a fever, or a catarrh, but she is dead of four doctors and two apothecaries.
Sganarel. Hush! Don't offend these gentlemen.
Lysetta. Faith, sir, our cat is lately recovered of a fall she had from the top of the house into the street, and was three days without either eating or moving foot or paw; but 'tis very lucky for her that there are no cat-doctors, for 'twould have been over with her, and they would not have failed purging her and bleeding her.
Sganarel. Will you hold your tongue, I say? What impertinence is this! Here they come.
Lysetta. Take care. You are going to be greatly edified; they'll tell you in Latin that your daughter is sick.
Scene II
...Lysette informs M. Thomès that a patient he recently treated is dead.
M. Thomès. [The coachman is d]ead!

Lysetta. Yes.

M. Thomès. That can't be.

Lysetta. I don't know whether it can be or not; but I know well enough that so it is.

M. Thomès. He can't be dead, I tell you.

Lysetta. And I tell you that he is dead and buried.

M. Thomès. You are deceived.

Lysetta. I saw it.

M. Thomès. 'Tis impossible. Hippocrates says that these sort of distempers don't terminate till the fourteenth or twenty-first, and he fell sick but six days ago.

Lysetta. Hippocrates may say what he please; but the coachman is dead....

Scene III

M. Fonandrès. Paris is wonderfully large, and one must make long jaunts when practice comes on a little.

M. Thomès. I have an admirable mule for that, and the way I make him go every day is scarce to be believed.

M. Fonandrès. I have a wonderful horse, and 'tis an indefatigable animal.

M. Thomès. Do you know the way my mule has gone today? I first went near the arsenal, from the arsenal to the end of the suburb St. Germain, from the suburb St. Germain to the very end of the marshes, from the end of the marshes to the gate St. Honorius, from the gate St. Honorius to the suburb St. James's, from the suburb St. James's to the gate of Richelieu, from the gate of Richelieu hither, and from hence I must go yet to the Palace-Royal.

M. Fonandrès. My horse has done all that today, and besides I have been at Ruel to see a patient.

M. Thomès. ...what side do you take in the dispute betwixt the two physicians, Theophrastus and Artemius? for 'tis an affair which divides all our body.

M. Fonandrès. I am for Artemius.

M. Thomès. And I likewise; not but that his advice killed the patient and that of Theophrastus was certainly much the better; but he was wrong in the circumstances, and he ought not to have been of a different opinion to his senior. What say you of it?

M. Fonandrès. Without doubt. The formalities should be always preserved whatever may happen.

M. Thomès. For my part I am as severe as a devil in that respect, unless it's amongst friends. Three of us were called in t'other day to a consultation with a strange physician. I stopped the whole affair, and would not suffer 'em to go on unless things went in order. The people of the house did what they could, and the distemper increased; but I would not give an inch. The patient died bravely during this dispute.

M. Fonandrès. 'Twas well done to teach people how to behave, and to show 'em their mistake.

M. Thomès. A dead man is but a dead man, and of no consequence: but one formality neglected does a great prejudice to the whole body of physicians.

Scene IV

Sganarel. Gentlemen, my daughter's oppression increases, pray tell me quickly what you have resolved on....

M. Thomès. Sir, we have reasoned upon your daughter's distemper; and my opinion, as for my part, is that it proceeds from a great heat of blood: so I'd have you bleed her as soon as you can.

M. Fonandrès. And I say that her distemper is a putrefaction of humors, occasioned by too great a repletion, therefore I'd have you give her an emetic.

M. Thomès. I maintain that an emetic will kill her.

M. Fonandrès. And I, that bleeding will be the death of her...

M. Thomès. Do you remember the man you killed a few days ago?

M. Fonandrès. Do you remember the lady you sent into the other world three days since?

M. Thomès. (To Sganarel.) I have told you my opinion.

M. Fonandrès. (To Sganarel.) I have told you my thoughts.

M. Thomès. If you don't bleed your daughter out of hand, she's a dead woman. (Exits.)

M. Fonandrès. If you do bleed her, she'll not be alive in a quarter of an hour hence. (Exits.)

Scene V

Sganarel. Which of the two am I to believe, and what resolution shall I take upon such opposite advices? (He turns to MM. Macroton and Bahys for help.)

Gentlemen, I conjure you to determine me, and to tell me without passion, what you think the most proper to give my daughter relief.

M. Macroton. (Drawling out his words.) Sir, in these mat-ters we must pro-ceed with cir-cum-spec-ti-on, and do no-thing in-consi-de-rate-ly, as they say; for-as-much as the faults which may be com-mit-ted in this case are, ac-cor-ding to our ma-ster Hip-po-cra-tes, of a dan-ge-rous con-se-quence.

M. Bahys. (Sputtering out his words hastily.) 'Tis true. We must really take care what we do; for this is not child's play; and when we have once faltered 'tis not easy to repair the slip, and to re-establish what we have spoilt. Experimentum periculosum. Wherefore we should reason first as we ought to do, weigh things, seriously consider the constitutions of people, examine the causes of the distemper, and see what remedies one ought to apply to it.

Sganarel. (Aside.) One creeps like a tortoise, and t'other rides post.

M. Macroton. For, sir, to come to fact, I find your daugh-ter has a chro-ni-cal dis-ease, and that she may be in jeo-par-dy if you don't give her some assis-tance; for-as-much as the symptoms which she has are in-di-ca-tive of a fu-li-gi-nous and mor-di-cant va-por, which pricks the mem-branes of the brain; for this va-por, which we call in Greek at-mos, is caus-ed by pu-trid, te-na-ci-ous, and con-glu-tinous humors, which are con-tain-ed in the abdomen.

M. Bahys. And as these humors were engendered there by a long succession of time; they are over-baked there, and have acquired this malignity, which fumes towards the region of the brain.

M. Macroton. So that to draw a-way, loos-en, ex-pel, e-va-cu-ate the said hu-mors, there must be a vi-go-rous pur-ga-tion. But first of all, I think it proper, and it would not be in-con-ve-ni-ent to make use of some lit-tle a-no-dyne me-de-cines; that is to say, lit-tle e-molli-ent and de-ter-sive cly-sters, and re-fresh-ing ju-leps and sy-rups, which may be mix-ed in her bar-ley wa-ter.

M. Bahys. Afterwards we'll come to purgation and bleeding, which we'll reiterate if there be need of it.

M. Macroton. Not but for all this your daughter may die; but at least you'll have done some-thing, and you'll have the con-so-la-ti-on that she di-ed ac-cord-ing to form.

M. Bahys. It is better to die according to the rules than to recover contrary to 'em....

________________