NorthWestward Ho!:

Hank and Barbara
(finally) visit
Bend, Oregon

9-10 September 2005




Friday, September 9

Fortified by a hearty pancake breakfast, we steeled ourselves to execute our genius plan and outsmart the wily wasps.

The springs rush out of the ground and feed the Metolius a short distance above the dreaded Hymenopteran Hideout.

Our mission accomplished, we headed back to the cabin. As we packed our bags, we noticed the handwriting on the wall. What could this possibly mean??!!

We stopped briefly in Sisters. Soon afterwards, we arrived in Bend, but it was too early to check into the Sather House, so we went on to the Lava Lands Visitor Center, part of the Newberry Crater National Monument.

This is what we saw....

Panoramic view of Lava Butte from the Molten Land trail.
We continued down the 97 to Newberry Crater and started a harrowing trip up the barely one-lane gravel road to the top of Mt. Paulina. But once we got started, there was no turning back til we reached the peak.
When we got there, here's what we saw:

Mt. Paulina is a prominent peak on the rim of Newberry Crater. Two large lakes fill the crater: Paulina Lake and East Lake. In the distance, near the right side of the image, you can see part of East Lake.
From the top of Mt. Paulina, we could see much of the crater below.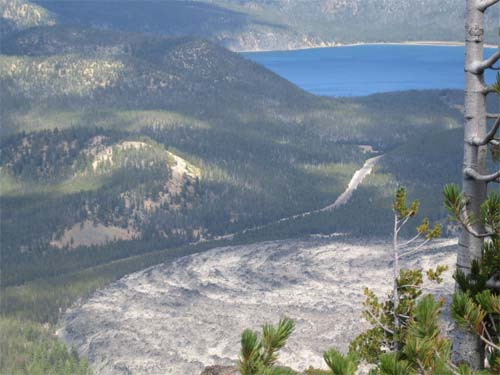 Looking down into Newberry Crater from the peak of Mt. Paulina. East Lake can be seen in the upper right. The expansive Obsidian Flow occupies much of the lower third of the image.
The trip down Mt. Paulina wasn't nearly as nerve-racking as the trip up. Maybe that's because this time we were on the mountain side of the road instead of the one-more-inch-and-you're-over-the-edge side.
Having seen the Obsidian Flow from above, we decided to hike the trail through it.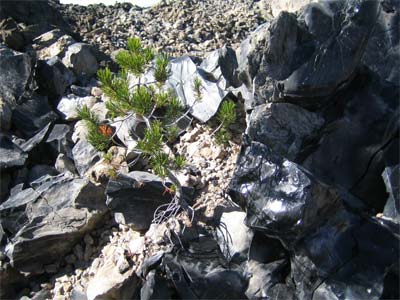 A small tree tries to take root among the glassy obsidian shards in the Obsidian Flow.
We hoped to visit the Lava River Cave on our way back to Bend, but were disappointed to find that it was closed for the season. Bats hibernate in the cave over the winter months and visitors disturb their fragile ecosystem.
After checking in to the Sather House B&B, we strolled along the Deschutes River and then continued a few more blocks into town where we found a not-to-be-missed Thai restaurant: Toomie's. While waiting to be seated, we struck up a conversation with a couple from Sebastopol, California. They had been camping, but the sudden drop in temperature encouraged them to reconsider their plans. When we told them about our B&B, they headed off to see about finding a room there....

on to Crater Lake ...